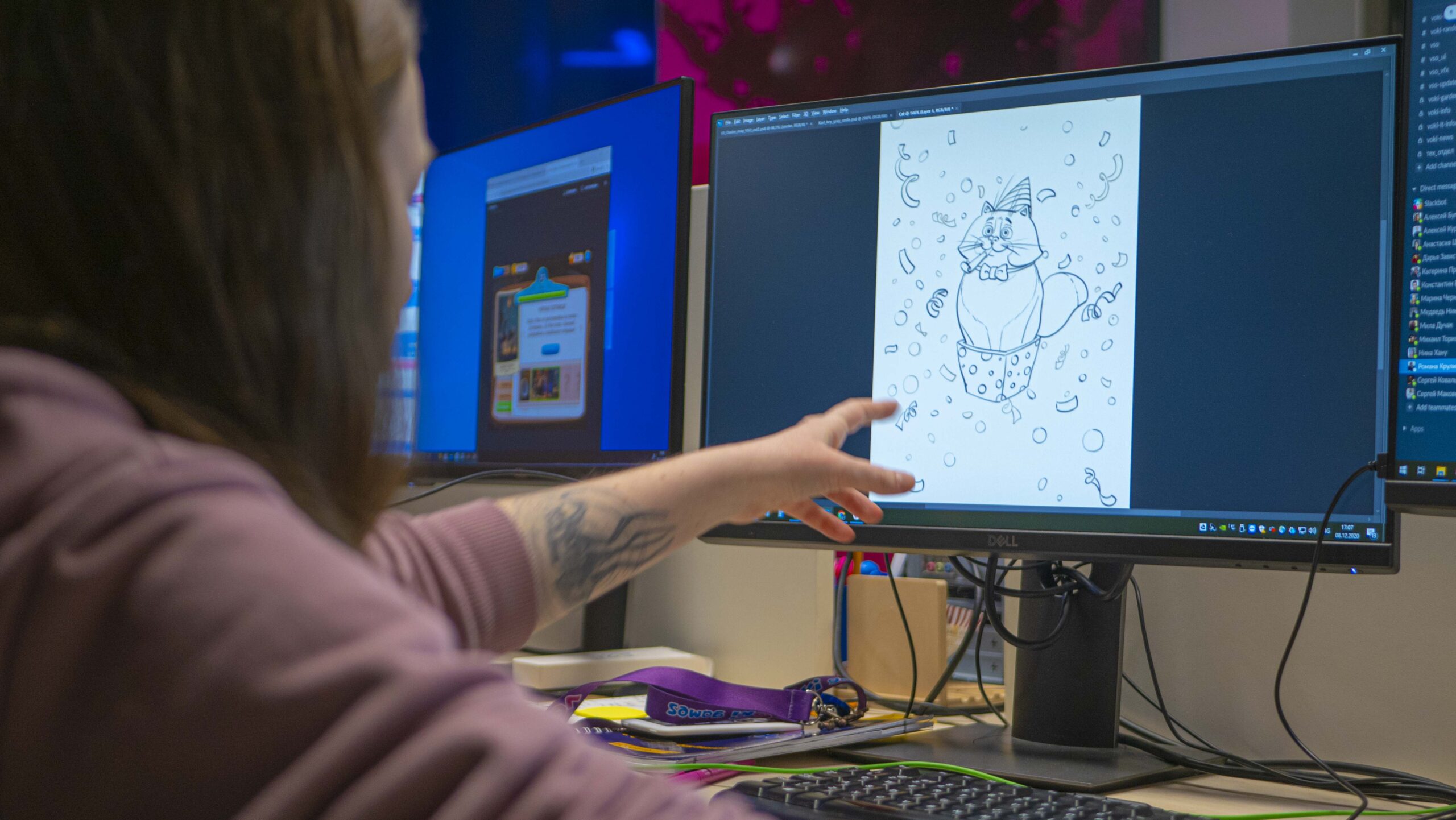 Gaming industry 2D artists: who they are and how to become one
In this article, we'll talk about UI/UX artists, concept artists, CG Generalists, how 2D artists learn, and the skills necessary for one's professional growth.
Who are 2D artists and what they do?
A 2D artist is a specialist that creates artworks, draws characters, items, weapons, environments, and other designs by means of graphics software. It's a creative profession that requires completed art studies, being familiar with relevant graphics software, and skills of working with a graphics pad.
2D artists work for advertising agencies, game-dev companies, mobile app studios, or freelance, draw cartoons, comic books, illustrations.
What does it take to become a 2D artist?
Being a 2D artist is all about knowing the academic fundamentals of drawing and painting, composition, choosing the right colors, and working with light and shadow. Artists know everything about human and animal anatomy and can depict them in motion and various poses. A 2D artist draws both on paper and with a graphics pad, analyzes works made by others, develops visual experience and creative thinking.
A 2D artist must know how to work with one or more of the following graphics software: Adobe Photoshop, Illustrator, CorelDRAW.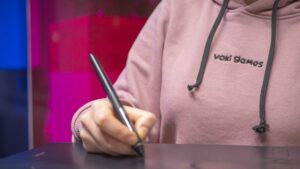 How high is the demand for 2D artists?
The demand for 2D artists is rather high these days. Especially in the gaming industry. The scale and speed of game development, the quality of artworks, and the amount of unique visual content are growing exponentially. So today you can find job offers from Junior 2D artists who create simple props like items and icons to Senior 2D artists and creative artists who are mainly drawing characters and locations for advertising campaigns.
Also, speaking foreign languages can open new opportunities and help an artist find a job in an international company. That's both beneficial in terms of income and building a stronger portfolio.
The ins and outs of working as a game artist
Aspiring game artists often mistakenly believe that game development is the perfect arena for creativity. That is partially true, but some artists tend to forget they'll have to follow certain guidelines rather than create artworks in their own style. They'll have to tailor their own ideas to meet set requirements and make games produce desired effect.
Large projects tend to have their own pipelines (illustration-production algorithms) for the art team to follow. On the one hand, it improves the workflow and communication, but on the other, it suppresses creativity.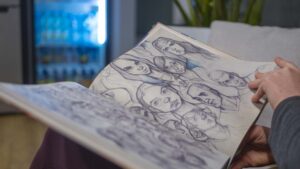 Gaming industry artists: roles and main tasks
Being a game artist in a large company is more than just that. Some of them are concept artists, some draw illustrations, or characters. There's a lot of very talented people involved. Here are the main roles of a game artist.
Concept artists are providing a rough visualization of a concept for the art to be made. They create designs of characters/locations without getting into fine details. They find relevant visual materials in games, movies, cartoons, photos, and use them for reference. Concept art is more about seeking the best form and variation, rather than a clean, finished job. Creating this kind of art is the start of creating an artwork that will be finalized by other artists. That's why a concept can look a lot like a rough sketch.
Illustrators work with static images like loading screens, covers, promotional art like posters with game characters people can buy from the company's website or on-screen postcards for the community.
UX/UI artists design game interfaces. Pop-ups, settings windows, booster panels, and notifications about a new in-game shop sale—all made by UI artists. Interface artists know how to make sure buttons don't get in the way and make them usable, how to cause a certain emotion with color, and which visual style of the controls will match the in-game setting better. UX/UI artists use their behavior logic and knowledge of the needs of players to improve the game experience for them.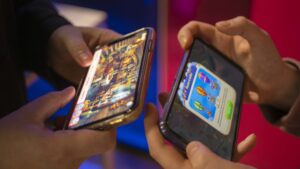 Environment artists are creating backgrounds for computer and mobile games. Landscapes, cities, decorations, buildings with things inside them are made by the hands of environment artists. They are very good with architecture and know their way around perspective and light.Character artists create game characters like people, animals, robots, mutants, and many other game-related creatures. Character artists use their wild imagination, knowledge of human anatomy, and the ability to bring life into characters. They turn what screenwriters put on paper into reality, breathe personality into characters with things like outfits, and make them unique.
A CG-generalist is the jack of all trades. They have lots of experience and no problem in designing environments, characters, concepts, and icons. These artists are often invited for smaller projects where one person covers 2D artwork, overpainting, modeling, and maybe even designing a simple skeletal animation.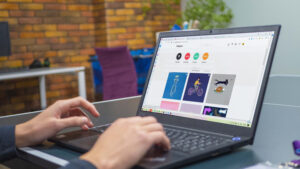 Getting into the gaming industry as a 2D artist 
To be a game artist is to love drawing and playing games. You've got to love it cause that's what you'll do every day at your job (excluding the time spent on communication with colleagues, calls, and sorting through your task manager). And you've got to play games not as a regular player, but as an artist. Examine every little detail, analyze used techniques, and make conclusions. Practicing and constantly learning new things is the best way to grow as an artist.
Game artist: education
An art school, a college, a university—it doesn't really matter where you got your education or training. But the fact of completion will definitely be a big plus on your CV.
There are quite a few art universities and colleges in Ukraine:
Kyiv National University of Culture and Arts;

Mykhailo Boichuk Kyiv State Academy of Decorative Applied Arts and Design;

Kyiv National University of Construction and Architecture;

Kyiv National University of Technologies and Design;

National Academy of Visual Arts and Architecture;

Borys Grinchenko Kyiv University;

Lviv National Academy of Arts;

Kharkiv State Academy of Design and Arts.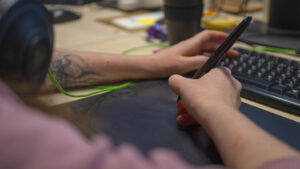 2D designer to 2D artist transition

After getting tired of designing visual styles, logos, and presentations, 2D designers often become 2D artists. They just improve their drawing skills, take online training, and can easily compete with those who attended schools of art.
A strong aesthetic sense, knowing how color works, and composition skills will help advance in the new profession. Newfound artists will be able to use all the acquired knowledge and prove themselves to be cross-functional specialists.
2D artist's portfolio
To show all your strengths, you'll need a bright, structured portfolio. It should not, though, include all of your works and sketches you made back at the university. There might be just a few of your illustrations, but they should truly reveal your talent.
Are you proud of the characters you draw? Show them. Reveal the stories and legends behind them. Explain why you drew them the way you did. If you're passionate about concept art or environment art, show the best examples of the techniques you've used creating them—from reference materials and sketches to the final result.
A portfolio is the face of a 2D artist. A set of carelessly chosen works without any particular logic can only be impressive if it portrays the unique skills of an artist. If you're not a well-known artist with lots of job offers from top companies yet, you'd better make sure your portfolio makes a proper impression.
One more tip—take a look at other artists' portfolios. Don't hesitate to ask for feedback from pros at art forums. Creative people are always happy to evaluate others and advise on what you should work on more.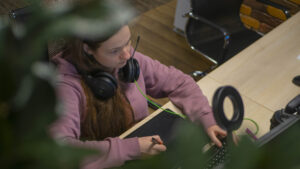 Finding your first job as a game artist
It's important to start looking for the first project as soon as possible. The sooner you start getting real-life experience (well-paid or not), the better.
At freelance and job sites, just search "junior 2d artist" and go through the offers. Even if you don't find anything right away, that'll help understand what employers need and focus on improving relevant skills.
When applying for a job, try adding a short cover letter to your portfolio. Many companies are ready to train people themselves. And some of the top companies also run specialized internship programs for motivated ones.
Subscribe to your dream companies on social media, follow their updates, and ask about open positions from time to time. Seeking information will help you be the first one to find out about new opportunities and internships.
Career opportunities
It's important to show your ambition after becoming a junior specialist. If you feel confident, ask for additional tasks, join discussions, generate ideas, and provide references.
Apart from becoming a middle or a senior specialist, it's also possible to become a team leader by demonstrating your organizational skills. Large companies are also transferring artists internally—location artists can switch to characters or, for example, become level artists. So if someone's bored with their current job, an internal training can be arranged and the artist is transferred to a different team.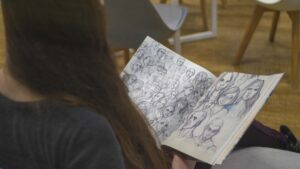 Pros and cons of working as a game artist
Like any other job, this one also has its pros and cons. Here are the pros:

Doing what you like and making a living off of it;

Working in a team of like-minded, creative people;

Career opportunities and plenty of job offers;

Better salary, conditions, and benefits than most of the artists have;

Being able to try your hand at everything from locations and characters to illustrations and UI.
Cons:
The need to follow the style of a project, leaving your own style behind;

A slow

sedentary job, constantly working with hands and eyes, now very healthy for your back;

Lots of revisions and stressful deadlines;

High entering threshold.
But creative growth and satisfaction with your own work are definitely worth all the effort invested into the profession as well as putting up with its downsides. If you feel like drawing is your life calling and you dream about creating awesome artworks for games, check out our vacancies and join the VOKI Games team.